Preparation + The Process
Studio Address
92 Bethlehem Pike, Philadelphia, PA 19118. The exterior of the studio is black. Enter through the door that has a sign above it saying "Studio 92 Photographers". When you enter, click the button on the buzzer on the very left and I or one of the studio owners will let you in. If you have purchased hair/makeup services, you will be introduced to the hair/makeup artist by either one of the studio owners or myself.
Parking
There is ample free 2-hour street parking directly in front of the studio.

If your stay is longer than two hours, I suggest parking in our private off-street parking lot directly behind the studio. This is accessible by driving on Chestnut Hill Avenue as if you were going to park at the train station, but instead of taking a left into the SEPTA parking lot, take your first right, and we are then the first lot on the right. You'll likely see my bright orange Honda Fit parked there.

Additionally, you can park at the SEPTA Chestnut Hill East parking lot for a small charge. It is steps away from the studio.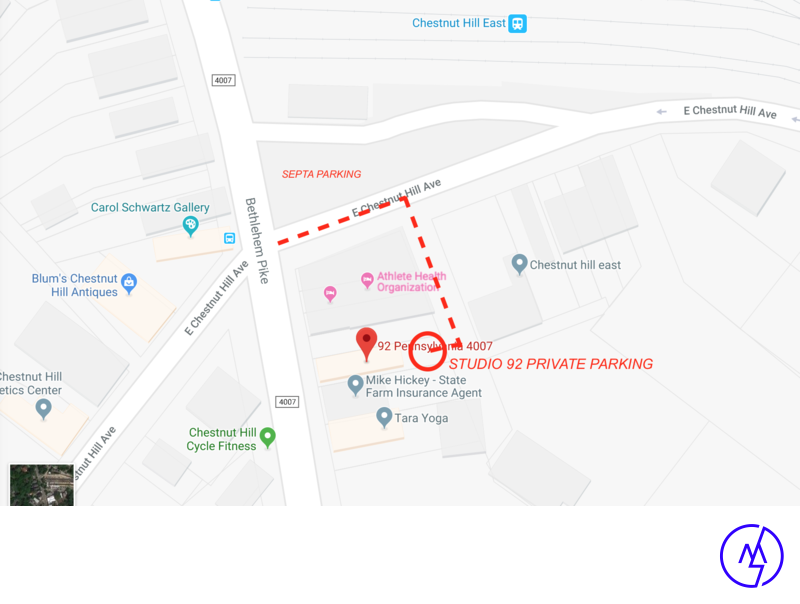 Before the Shoot
Men, I suggest getting a haircut 1 week prior to the shoot. This allows for your hair to grow in slightly after the cut, creating a well-groomed but natural-looking appearance. If you are growing out facial hair for the shoot, please make sure it is groomed unless you are going for a less clean-cut look. Additionally, you can shave mid-shoot if you would like shots with facial hair and without facial hair. Photo magic!

Women, getting your hair cut more pertains to any split ends/damage at the ends of your hair, or creating some layers in your hair. If you think you will benefit from getting a quick trim or overall cleanup of your hairstyle, go for it. If you have shorter hair, a full cut a week ahead of the shoot may be beneficial for you.
Make sure to apply chapstick liberally throughout the week proceeding your session. Chapped lips are enemy #1 of a headshot session.
The Night Before
Do not consume alcohol
Get a good night's rest; it makes a huge difference in your photos!
Drink lots of water to hydrate your skin and avoid chapped lips
What to Bring
Chapstick
Any hair/makeup/grooming products you love
How to Prep for Hair and Makeup Services
If you have purchased the hair and makeup services, please come with your hair washed and dried. Some folks opt for a blowout the morning of their session. Apply moisturizer to your skin, and you're good to go! I will have you change into the first shirt/top we will photograph prior to beginning hair and makeup.
What to Bring
Chapstick
Any hair/makeup/grooming products you love. Our hair and makeup artists are fully stocked, but it never hurts to have something on hand you can't live without!
Clothing
Please make sure the clothes are wrinkle-free and clean. *****do not ball up your clothes and put them in a bag, please! Please fold them or lay them out in your car so they look their very best*****.
No logos.
Simple/plain shirts look the best (no busy patterns - avoid stripes).
Avoid clothing that is transparent in any way - that's really hard to correct in Photoshop and often times is impossible to fix.




Actors/performers/creatives

Avoid black shirts and red as a primary color.
Clothes should fit well and hug the body. They should not be baggy. Clothes that fit tighter are better because they show off your form, but they should not look like they are way too small. They should fit you well.
Stick to one layer (avoid jackets and other layering unless the layering is subtle. Solid sweatshirts and leather jackets can work)
Bringing a variety of shirts is always great. Examples: One solid color tank top, one solid long-sleeved shirt or blouse, one solid polo shirt, etc.
Bring at least 3 to 5 shirts so we have options. Having more options is better than having less options! I will be very impressed if you bring 10 or more options.
Dresses are totally fine.
You can wear jeans or whatever type pants you'd like to wear; they won't show in the images.


Businesspeople
Avoid red as a primary color.
Clothes should fit well. They should not be baggy or overly-tight.
Suit jackets, blazers, dresses, and blouses are perfectly acceptable, as are button up shirts. It is really dependent on what kind of image you are trying to project. Take a look at what others from your company are wearing to get a sense of what you should bring to the shoot. If you are an entrepreneur, think about what style of dress most aligns with your brand and how you wish to be perceived.
Bringing a variety of shirts/tops is beneficial to give us options during the shoot. I will be able to advise you on what looks best for you.
Black is totally fine to wear for business headshots.
You can wear jeans or whatever type pants you'd like to wear; they won't show in the images.
Makeup/Hair/Jewelry
Makeup should be a light to medium amount (enough to show on camera but nothing over the top) - when in doubt, go with less makeup. I can't remove any makeup in Photoshop but I can always add some.
No highlight/contouring - it does not read well in headshots at all. Trust me on this one! Your cheek bones will look great from the lighting, I promise!
Wear only a little mascara and very light eyeliner.
No colored eyeshadow, intense lipstick, etc. (Subtle, neutral colors only).
Please make sure your makeup matches your skin tone and isn't too light, and blends well around your jawline and neck.
Avoid any sort of sparkly/shimmering makeup like the plague.
Bring your makeup and hair products with you to touch-up if needed.
Wear your hair as you would to a big audition. It should look put together but not overdone. Most of all, it should look like you would actually wear it to an audition. Watch out for strays and frizz.
Guys, makeup isn't necessary (a little cover-up over acne is totally fine).
No jewelry, except for business headshots in which small stud earrings and a subtle necklace are acceptable.
If you didn't initially add a hair and makeup artist to your shoot and you would like to do so after booking, please contact me at least 5 days before the shoot to let me know. I promise you that having a hair and makeup artist at your shoot makes an incredible difference and is worth every penny.
The general idea is to look natural for the camera. That's why we stick to neutral colors and don't over-define the eyes. The makeup is supposed to enhance your look without looking overdone or unnatural.
Think more "I woke up like this" than "date-night"
After the Shoot
The proof gallery will be available within 48 hours. The images in the proof gallery are edited (brightness, contrast, basic color adjustment, cropping, etc.)
Your gallery will also contain the images you selected for retouching at your session. Please note the number of included retouches corresponds to the type of shoot you booked. You can purchase additional retouches at any time at $50/image!
Philadelphia Headshot and Branding Photographer
Actors - Creatives - Business - Entrepreneurs - Corporate


Rittenhouse Philadelphia Studio:
350 S 15th St, Philadelphia, PA 19102

West Chester Studio:
426 W Gay St, West Chester, PA 19380


(267) 888-4693 (call or text) | mike@mikestyerphotography.com
© 2020
Preparing for Your Headshot Session