No actor wants to be overlooked. Stand out with headshots that:
Give you confidence in the audition room
Show different sides of your personality and playable types
Represent who you are at your core and what you bring to the table
Leave a lasting first-impression on casting directors
Actually look like you
You are guaranteed to love! (More on that below!)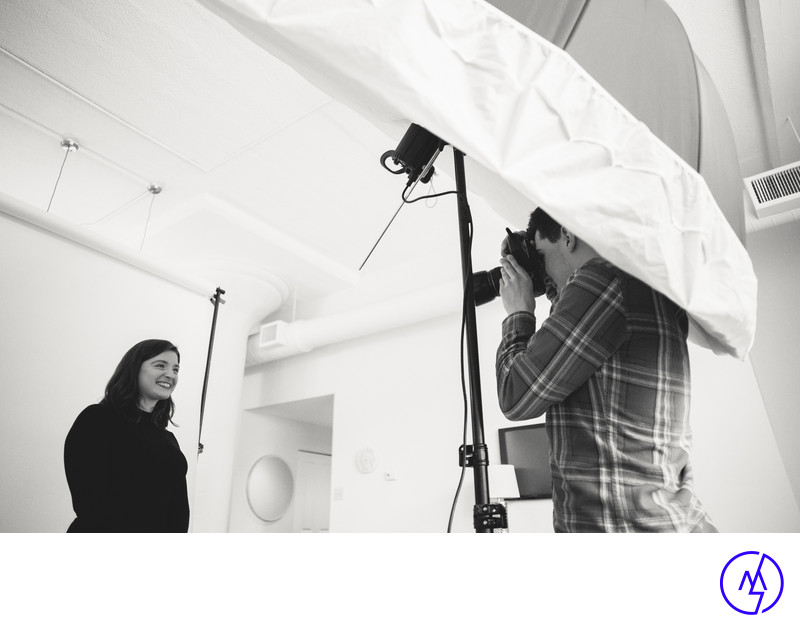 Image courtesy of Captured by Caity Photography
As an actor myself, I have my finger on the pulse of the industry.
I know exactly what casting directors are looking for in a headshot and how to capture that for you. You do not need to think you are "photogenic" or have any experience being photographed in order to get amazing results. I will guide you throughout the entire shoot and adapt to your energy in order to get headshots that capture your personality and make you look + feel amazing.


My clients have previously been seen on Broadway/on tour in:
Mean Girls, Miss Saigon, Mamma Mia!, Jersey Boys, CATS, Starlight Express, Joseph...Dreamcoat, West Side Story, Smokey Joe's Café, The Wizard of Oz, and on national television in shows such as Grey's Anatomy and Ellen.


I guarantee that you'll love your headshots.
In fact, I have a policy that if you don't love your headshots, you can come back for a reshoot at no cost. Still don't love your headshots? I'll refund you the full price. But I'm confident you will be obsessed with your new shots!


I promise that you'll get the best headshots you've ever had,
and you'll have fun doing it, too.
I invite you to my studio for your personalized headshot session!


Frequently Asked Questions
What is your turnaround time?
Proofs are delivered within 2-3 weeks. If we select which images you would like at your session, those final retouched images will be delivered within 2-3 weeks.
We offer rush services as an add-on if you need a turnaround time faster than what is listed above.
Are all of the images from my session/all of the proofs included with my session?
Your session includes a download of the final retouched images. If you would like all of the images from your gallery (all of the proofs), you may purchase that at an additional cost.


What if I am not photogenic?
Being photogenic just means that you have experience in front of the camera. If you don't have this experience (most of my clients do NOT), I will teach you everything you need to know to look your best in your photographs. I will guide you through posing and I will walk you through exercises that elicit specific emotions in order to capture a diverse set of flattering, engaged images. I will customize my approach to you by adapting to your specific energy and what clicks with you. You don't need to be "photogenic" at all because I will be there to help you through the entire shoot!
Can we shoot outside?
YES! Although I primarily photograph headshots inside my studios with studio lighting, we can venture outside around the studio to get outdoor shots as well depending on weather and if we can squeeze that into the length of your session.
Who is your hair and makeup artist?
I work with Philly's best hair and makeup artist agency, ONLO. Diana DuHaim (the owner) and her associates are all masters at their craft. Normally, ONLO sends an artist out to one of our studios to perform hair and makeup services when a client books those services. Currently, because of the COVID-19 pandemic, ONLO is not performing on-location services at our studios and is manually scheduling hair and makeup sessions at their studio in Germantown. We can also recommend other artists that are more local if that is too far for you to drive. Reach out to us for more information regarding hair and makeup services.
Do I need to bring special pants or shoes?
For a headshot session, that's not necessary, as your pants and shoes won't be visible in the photos. However, I believe that you should come feeling amazing, including your pants and shoes, because it helps inspire you during the shoot. Totally up to you, though. If you are more comfortable in shorts or yoga pants, go for it.
If you would like to shoot 3/4 images/full body images (we can usually sneak some in!), bring full outfits including shoes, pants, etc.
Can I print my headshots wherever I want?
Yes, although I have made it painless to order prints through me right from your gallery. By printing with me, you are getting professional prints at rates competitive to major reproduction/print houses with the convenience of the prints being shipped right to your door. It doesn't get better than that!
Can I use these images on my website and social media?
Of course! No special permission necessary.
How do I book my session? What does the rest of the process look like?
1) Navigate to my online booking page to view my availability. Pick your desired slot, complete the contract/terms and conditions, and pay for the session all from the booking page. It is super convenient!
2) Complete a questionnaire so I can get to know you better, how exactly you would like to market yourself, and know where you are in your career
3) Receive an appointment confirmation email with links to parking instructions and a thorough prep guide that answers any and all questions you may have about clothing, hair and makeup, etc.
4) Have a great time at your shoot! I will guide you through everything including getting comfortable in front of the camera, posing, outfit selection, etc. We will jam out to music of your choosing!
5) Receive proof gallery. You will select the image(s) you would like retouched from this gallery
6) Receive retouched image(s) through gallery
What is a "proof"?
A proof is an image you receive back that isn't quite finished yet. It has been edited for color and brightness but not retouched. Retouching includes remove skin blemishes and other things done in Photoshop. You'll receive a set of proof images in an online image gallery, and from there you will be able to select which images you would like retouched.


What is the difference between editing and retouching?
When you receive your proofs, these images are edited. This includes making sure they are at the perfect brightness/color/contrast level and have my signature look to them. Editing does NOT include things like removing skin blemishes, removing stray hair, etc. That's where retouching comes in. Retouching is an intensive process compared to editing.
In other words, the proofs are "edited" and are like a draft of a paper, and the retouched images are the finished paper.
How many images can I select for retouching?
That depends on which package you purchased - each package is different. Click here to double check my package offerings. You are also able to purchase retouching for additional images upon booking or after your session.
Can you give me advice on how to do my hair + makeup and what clothes to bring?
YES! I actually have a comprehensive guide available here that walks you through everything. I recommend hiring a hair and makeup artist to do that for you at your shoot, but if you elect to do it yourself, the information is available in the guide. As always, you can reach out to me with any questions you have leading up to the shoot.
What if I don't like my headshots?
You will, trust me! But I do have a quality guarantee. You are welcome to come back for a free reshoot if we aren't able to get your images to your liking with retouching.

Philadelphia Branding and Headshot Photographer
Entrepreneurs - Personal Brands - Small Businesses - Corporations - Creatives

Center City Studio
1209 Spruce St, Philadelphia, PA 19107

Exton Studio
300 N Pottstown Pike, Exton, PA 19341
(267) 888-4693 (call or text) | hello@mikestyerphotography.com
© 2021 Mike Styer Photography LLC